Communication is the basis of human interaction. I will get to know what you want when you say it. You get to hear news as communicated. This is paramount for peaceful co-existence. To be safe, radio waves from police and security offer alerts. It is possible to tune in to some of these channels. You will not respond but you will be informed. With the information, you can be in a position to advise. Also, you can alert others if you are in a position to.
The Uniden Bearcat 980 is ideal to carry out this task. Well equipped with 40 channels, you are guaranteed of the information. You will not miss out when tuned in. Whether to use at home or on the move, I guarantee you this is your best bet. You will be satisfied with its performance. Below is the review of the Uniden Bearcat 980. Its properties, pros and cons. At the end, trust me to settle for it.
Uniden Bearcat 980 SSB CB Radio Review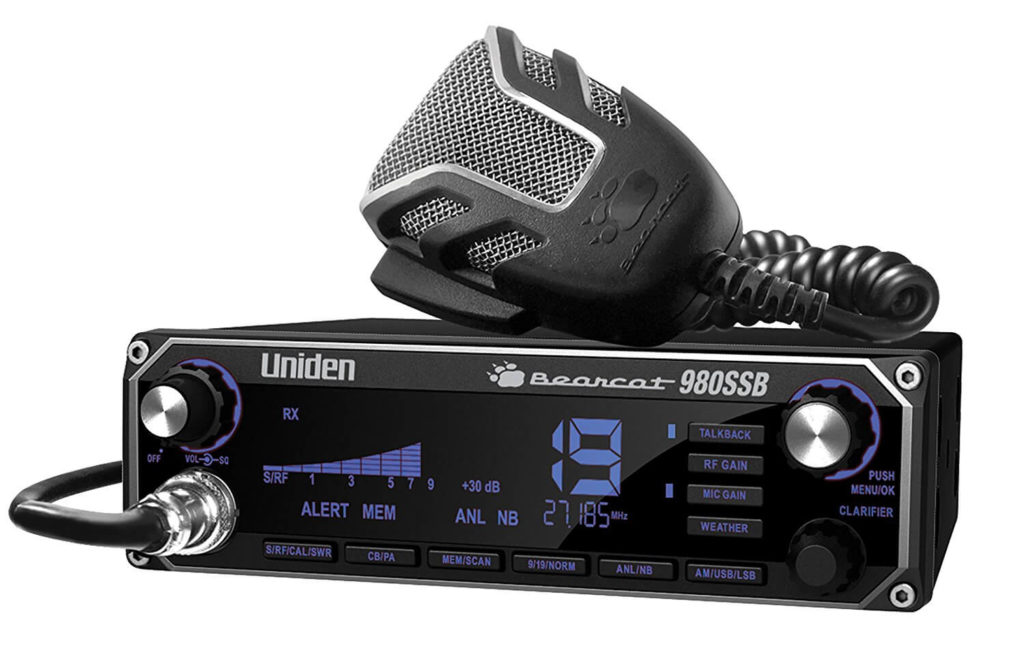 Check Price on Amazon
Best Features of Uniden 980 SSB
The Uniden 980 SSB stands out in the market mainly due to the following features:
40 channels
This includes lower and upper sideband channels. You get to scan through the various channels using simplex. It is easy and efficient. This is a demonstration of variety that you can choose from.
Also Read: AnyTone Smart CB Radio Review
Stability
Channels do not overlap. The channel you tune in to is crystal clear. No other channel frequency comes on. This sets it apart in the market. Frequencies interfering with each other irritates but this is not the case here.
LCD Color Display
Possesses 7 colors. This ensures easy visibility on any type of lighting and especially at night. The display eases the finding of functions.
Signal Strength Meter
This gives a crystalline of communication. Moreover, it has the SWR meter. This meter helps to get clarity in a low powered radio. In the Uniden 980 SSB, it facilitates clarity over the strength meter.
Weather channels
It provides 7 NOAA channels. This is particularly great for frequent travelers. Also, for the folk that works outdoors. The weather department can utilize it too for the above features too.
Squelch control
Aids in the clarity of communication. The dynamic feature makes it stand out. Communication is clearer and less strenuous.
Problems of this Bearcat 980 CB Radio
Perfection is what we aim for. It is however a mean fete to attain.The only problem for an industry leader would be a limited warranty. The performance beats the rest of the industry players. Therefore, not much trouble with the Uniden bearcat 980 ssb.
Also Read: Best Stryker CB Radios
Maintaining and safety tips
To get the best of anything, it is best to take good care of it. The Uniden Bearcat 980 ssbcb radio requires these simple measures:
Use this device in the appropriate watts of power. Lack of it may damage it.
Read the user manual or seek guidelines before utilising it. This way, you get the best of the bearcat 980 ssb.
Frequently asked questions about Uniden Bearcat 980 SSB
Why should I buy the Uniden bearcat cb radio?
Answer: To start with, you get value for your money. Secondly, it is an industry leader. You will not find any better clarity anywhere on the market.
Answer: Yes. The Uniden 980 ssb has a 2-year limited warranty. This is similar to most electronics. Be guaranteed though, you may not need to utilise the warranty. It has been manufactured to deliver.
All CB radios claim to be Why believe this for the Uniden Bearcat?
Answer: Bad news spread like wild fire. If this was just a marketing gimmick, the reviews online would be negative. The clarity is unquestionable and reliable.
Final verdict
I recommend the Uniden Bearcat 980 for anyone who is out to get a CB radio that will deliver. The price is friendly and the folk that have used it are not disappointed. Online reviews are a true reflection of what a product can do. I have done the research for you, I suggest you don't look any further.