Are you looking for a perfect CB amplifier for yourself?
If Yes! you are at the right point. I am Joe, an expert Trucker and hobby blogger. Today I am going to write regarding the best types of CB radio amplifier. Increase your CB Radio Range with CB Radio Range Booster.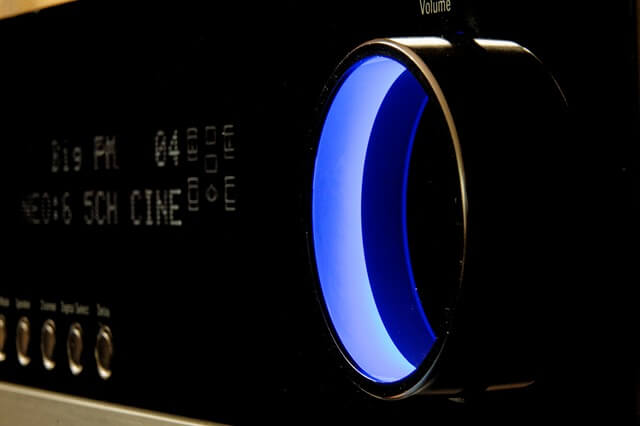 Like with every other CB radio enthusiast, I want to assure that whatever I'm transmitting is heard loud and clear. After installing my new CB on my truck three years past, I realized that users often complained that I wasn't loud enough most of the time. I didn't want to buy a longer antenna or tamper with the CB's circuitry. The only option I had that was to find the best CB amplifier. With it, I could increase the transmission range and always hear and be heard clearly.
During my search, I came across several decent CB amplifiers. But three caught my eye. Here's my take on the three units.
Top 3 Amplifier for CB Radio Reviews
HYS TC-300N HF Transceiver HF Power Amplifier for Handheld Amateur CB Radio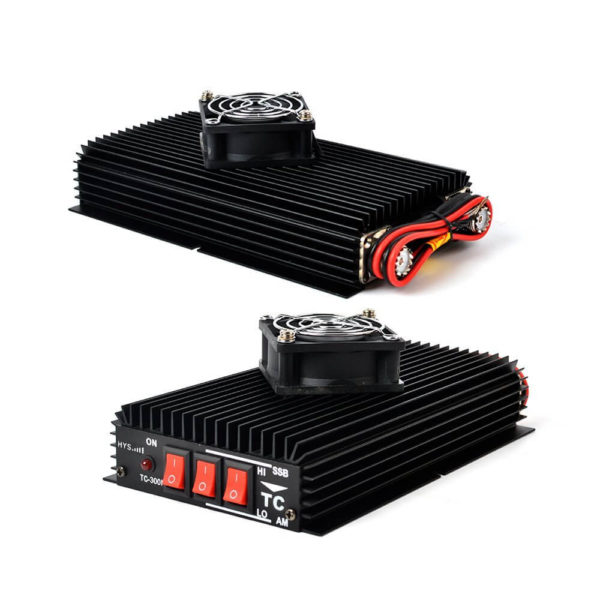 The HYS TC-300N is a compact and lightweight amplifier designed to work with CB radios (20 to 30 MHz range). It comes in a rugged design which includes heat sinks and a fan to prevent overheating. The front panel includes easily accessible ON/OFF and automatic Tx/Rx switches.
It's designed for use with almost any CB with an output power not exceeding 5W for AM/FM and 10W for SSB. Although the manufacturer states that you can get as much as 300W output from this amplifier, I managed to get an average of 100W to 150W which is quite decent. It is an effective CB radio range booster.
This amplifier also comes with built-in reverse polarity protection which helps to extend its life.
Baojie BJ-300 3-30 MHz High Power HF Transceiver HF Power Amplifiers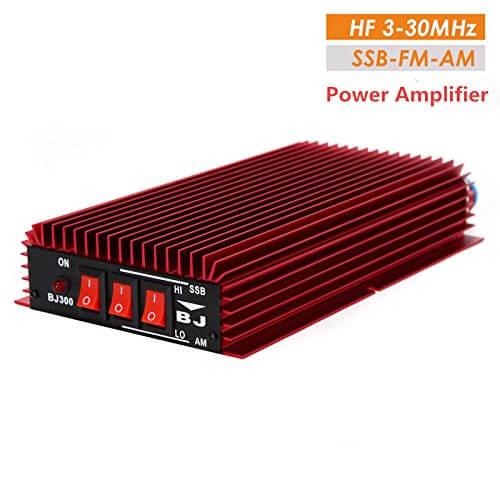 The BJ-300 from Baojie comes in an attractive, rugged aluminum frame. The design includes a front panel with 3 buttons and a power light. At the back are the antenna and CB radio connectors and a power cable for connecting to a 12/14V power source. It's a compact and lightweight CB radio amplifier weighing about 750g.
It's also designed for use with AM/FM and SSB radios. As such, the recommended input power for this amplifier is 3-5W and 2-10W for AM/FM and SSB respectively. From this input, this amplifier is designed to output as much as 300W. However, you should expect something around 150W on most days.
With built-in reverse polarity protection, you can expect this amplifier to remain operational for some years. It's however worth noting that it doesn't include a built-in fan, so it's best that you install it in a well-ventilated area.
Nagoya NE-300N HF Transceiver HF Power Amplifier
The NA-300N from Nagoya is another compact and lightweight amplifier specifically designed for CB radio use. It comes in an aluminum frame than includes heat sinks and a mounted high-speed fan.
This power amplifier for amateur CB radio operates best with CB radios within the 20-30MHz range. It will work with both FM/AM and SSB CB radios. It requires an input of 5W or 10W for the best output that can go up to 250W. With regard to the voltage, it performs best when connected to an 18V power source.
Like with the other 2 amplifiers previously reviewed, the NE-300N also comes with built-in reverse polarity protection.
Best CB linear amplifier Review
MegaWatt
S-700-12 CB Radio
Linear Amp Power Supply
The MegaWatt linear Amp power supply is small and light, adjusting the voltages very easy with any meter. It made to be run in parallel with other S-700-12 power supplies to obtain any amperage you need, 50, 100, 150, 200 amps or more that you want. It is considered as best CB radio linear amplifier.
You have to just connect them together and run it. There is a cooling fan inside to control heat and ensure long life. It has Adjustable output voltage 10.5 to 14 volts DC. Comes with a grounded power cord. It is specialized for No RF noise in HAM Radios. It has an auto short circuit. In the situation of overvoltage, it will shut down for protection. It is Highly filtered and regulated.
How to choose a CB radio amplifier

Compatibility with CB radio
FCC rules require that maximum CB radio power output be 4W for AM/FM and 12W for SSB. Your amplifier should have an input rating within this range. In addition, it should operate within the 20MHz to 30MHz range within which CB radios fall.
Design features
Three important design features you should look at are:
Cooling features such as heat sinks and mounted fans
Placement of important parts such as antenna cable connectors and buttons
Built-in self-protective features like reverse polarity protection
Power output
The main reason why you're investing in a CB amplifier is to increase the power output of your CB transmission. Most CB radios will promise outputs over 250W. It will be so much loudspeaker. However, realistically, you shouldn't expect more than 150W. Remember that output might be negatively affected if the amplifier heats up after extended use.
Maintenance and Safety Tips of CB Radio Amplifier
Since they're electronic devices, CB amplifiers will emit heat when in use. It's therefore important that you install yours in a well ventilated dry place.
Always ensure that the antenna you install is able to handle the maximum power output of your amplifier. This way, you'll protect your amplifier from getting damaged.
Final verdict
If you want to increase your CB radios power output, investing in a quality amplifier is often easier compared to changing the circuitry of the radio or getting a longer antenna. There are many CB amplifiers on the market today. To make it easier for you, I've reviewed the top 3 units on the market today. Choose one that best meets your needs.
Helpful Resource: