A high-quality CB coax cable is one of the accessories most CB and ham radio users overlook. It determines how much of the signal actually reaches the transceiver from the antenna. A year ago, I had to replace my home base station's coax cable. The old one had been adversely damaged by heat and moisture. Water had reached the core negatively affecting signal strength.
Truckers always look for best coaxial cable for CB radio. However, with deep knowledge in this area, you'll be able to pick the right one.
TYPES OF COAX CONNECTIONS
PL-259 CONNECTIONS (BARREL STYLE)
RING STYLE CONNECTIONS
LUG / TERMINAL STYLE CONNECTION
Best CB Coax Cable Review

If you involuntarily make a poor choice, not only your cable will suffer, your CB radio won't operate. This is why it is very very important for you to get the best in quality Coax cable for your CB radio/antenna.
After doing some research online, I decided to invest in the Wilson 305-830 18 foot coax cable. Here's my review of this cable.
Wilson 305-830 18' Belden Coax Cable /FME Connectors Review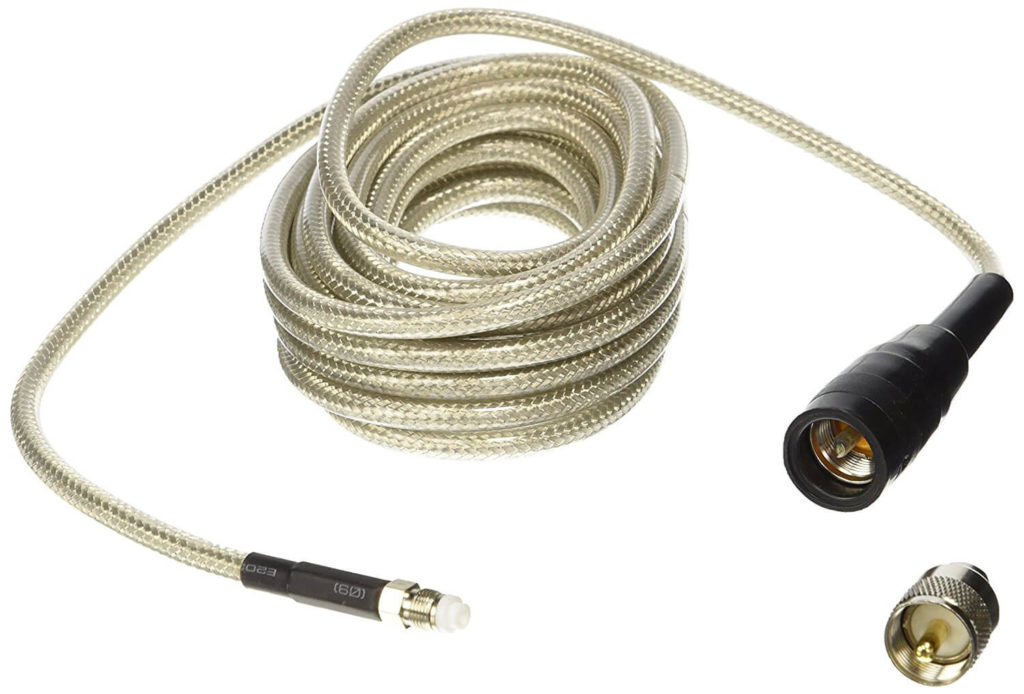 At first glance, you'll notice the shiny braided tin copper shield that covers the whole length of this coaxial cable. Not only does it look better than the dull black or grey PVC you'll find covering most cables, this braided shield serves a more important purpose. It helps to shield the core from external radio waves which would cause interference and reduce signal strength. It also makes the cable stronger meaning it's very unlikely that the core will break even if you bend the cable.
Measuring 18 feet long, this CB radio coax cable will easily run from inside your house to the roof where you've placed your CB antenna. It's also quite flexible allowing you to run it along corners if need be.
The cable is RG8X type with 50 Ohm impedance. This is specially designed for use with CB radios.
Another nice feature I liked about this cable is the inclusion of a removable PL-259 connector and an FME connector on either end of the cable. You won't need to buy extra connectors to set up your CB antenna. Given that the connectors are removable; it is easier to run the cable through tight spaces during installation.
The PL-259 connector includes a quality weather boot that helps to protect it from the elements. You should expect this cable to resist heat and moisture damage for years on end.
It will be the best coax for CB base station.
CB coax connector installation:
How I Picked the Best Coax for CB Radio
Coax Cable Type
RG8 cables are specifically designed for use with CB radios. There are two types, RG-8/U which has a thick core and dielectric. Then there's the RG-8X which has a thinner core and dielectric. I prefer the RG-8X because the double braided shield it comes with offers better protection against external radio waves.
Cable Length
Always go for a cable that's several feet long especially if you intend to use it with a home CB. A longer cable gives you more flexibility regarding where you can mount the CB antenna.
Additional Features
I'll consider whether the cable includes connectors and the quality of the soldering between connector and cable. These features go a long way in determining how easy it will be installing the coax cable as well as how long it will last.
Installing and Safety Tips of CB Coax Cable
If you're connecting your cable to an elevated antenna (such as on your house's roof) always observe safety. Wear protective gear and never try to work alone.
Before securing the antenna and cable, perform an SWR test to ensure that the CB signal is within the recommended range. Also, avoid bending the coax cable too much. This can damage the core leading to signal loss.
What affects your CB COAX cable
Water can damage it.
Heat can also damage it.
An improper connection can damage it.
Final verdict
If you're looking for a new CB radio coax cable, the Wilson 305-830 is worth considering. This 18-foot cable is designed for use both indoors and outdoors. Installation is easy thanks to the included PL-259/FME connectors. Given its quality and durability, it's also quite affordable when compared to competing models.
Helpful Resource: