After working with 2 11 meter band CB radios for several years, I was partially disappointed with their output power which limited their range to a few miles. I wanted a radio that would transmit longer distances. A 10-meter band CB was the better choice over illegally modifying my CBS. 10-meter CB radios are usually expensive and since I was on a budget, I decided to find a cheap unit. My search led me to discover the AnyTone smart CB radio.
Before writing my AnyTone smart CB radio review, here's something worth noting. 10-meter radios are different from your standard 11-meter CB. The AnyTone CB is a 10 meter band unit although marketed as 11 meter band. As such, you will need an FCC license to operate it within the US or, modify it to operate as an 11 meter CB.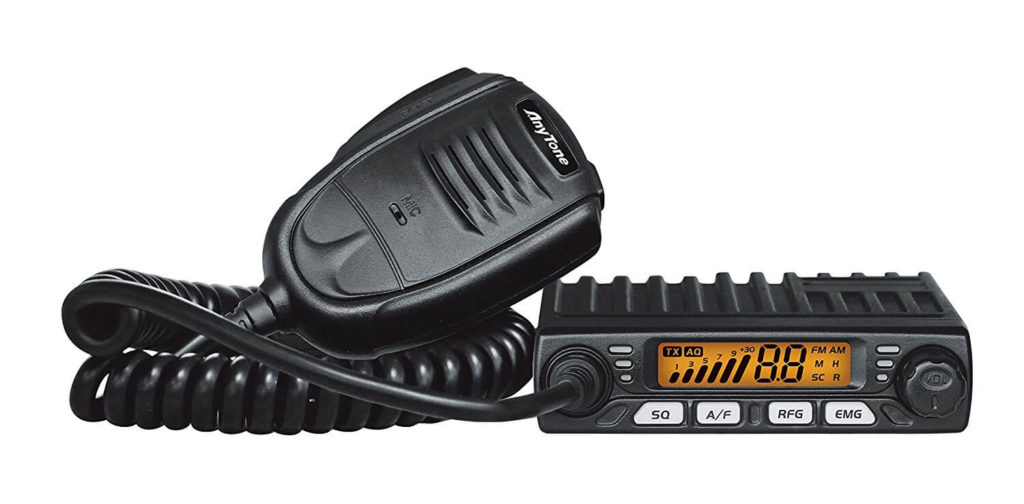 Compact and lightweight design
One my favorite AnyTone CB features is its compact and lightweight design. Weighing a mere 421 grams and measuring 104 by 109 by 25mm its one of the tiniest CB radios you can get. This compact design makes it ideal for installation in a variety of vehicles ranging from trucks to ATVs. All the necessary mounting hardware except the antenna is provided.
Also Read: Best Stryker CB Radios
Clear voice output
Despite its small size, the AnyTone smart cb provides excellent voice output. It includes features such as squelch control and RF gain buttons which make it easy to tune for signal range and filter background noise. Together, these will enable you to get a clear voice output.
Easy to convert to 11 meter band CB
Being an 8-watt power output cb, the AnyTone offers more power compared to your standard 4-watt CB. One AnyTone CB radio review I came across pointed this as an advantage especially if you want to convert the unit into an 11 meter band CB. After modification, you'll have a more powerful CB. The modification involves de-soldering the OP2 and setting the unit to the D band. However, the manufacturer provides a DIY manual to get the job done.
Easy to operate
The AnyTone 10 meter CB radio comes with all the controls you'll need to operate. I like the fact that the design includes only one knob and several buttons. All controls are placed on the front panel which also includes a backlit LED display. The mic also includes a push to talk button.
AnyTone CB shortcomings
The overall design is good. However, this unit comes with a permanently attached mic. Although it does include a long cord, it's practically impossible to attach a better quality mic on it. It's also worth noting that it doesn't offer SSB mode if you want to use it as an 11-meter band CB.
Also Read: Galaxy DX-959 CB Radio Review
Conclusion
If you're looking for a 10-meter band CB radio that's both inexpensive and easy to operate, then you should consider investing in the AnyTone smart CB. It's a small unit and will fit in any vehicle. Compared to your standard CB, it offers better range and can be modified to operate as an 11-meter band unit. Its voice output is great and operating it is quite easy.
Helpful Resource: